Please enjoy some pictures of our past puppies that are adult dogs now, and what their new owners have to say about them:
Female From Westfork's Libby...
This is a smooth coat, standard legs
Male out of Jill Tumble....
This is a smooth coat, Short legs
Wrigley enjoying the beach!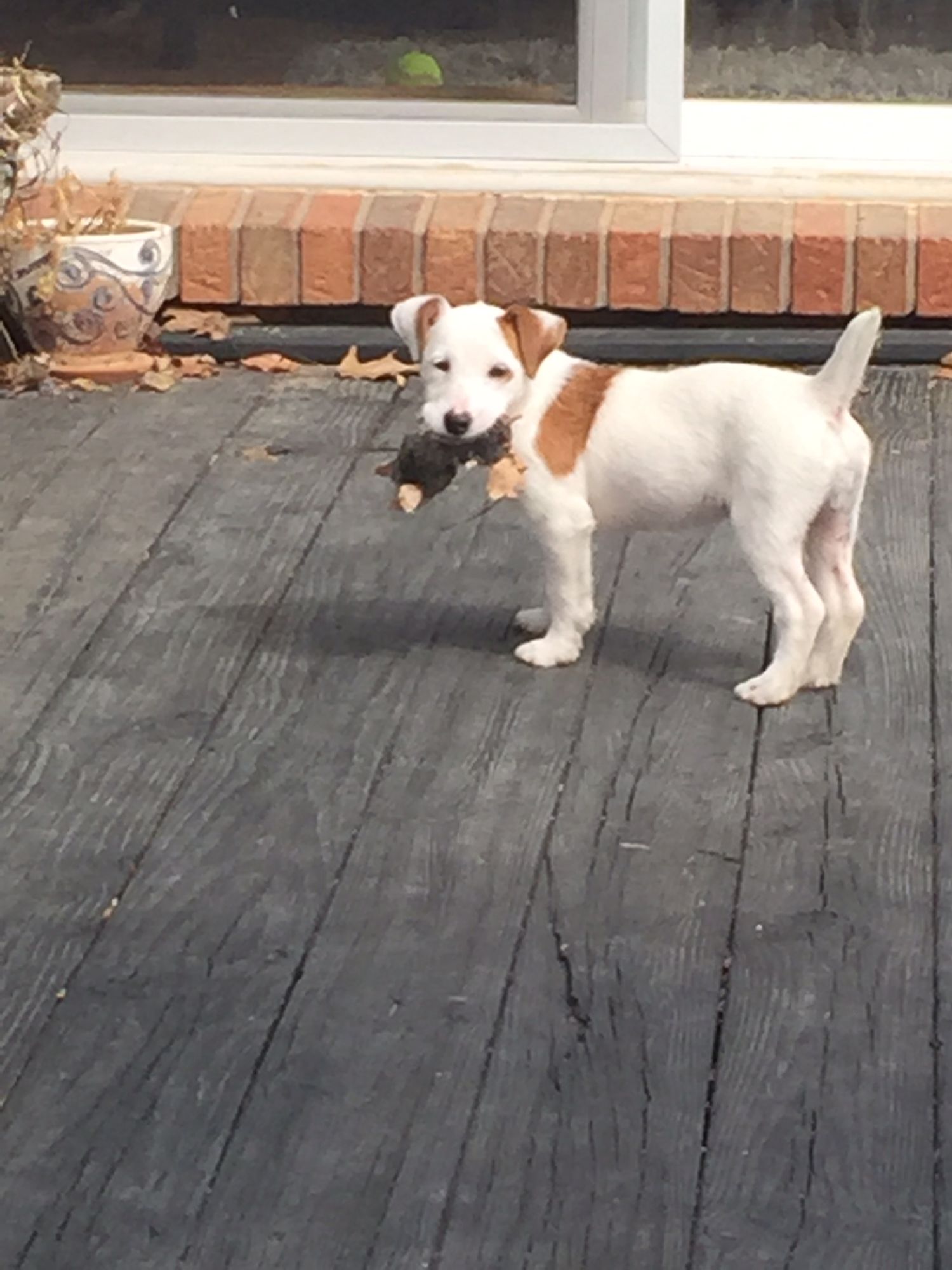 First baby mole killed at 4 months old! - owned by Gary and Cheryl Jesse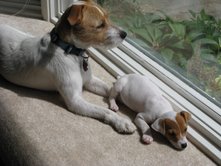 This is Tucker and Taymar, now owned by Marilyn Banks of Columbus Ohio.
"Just wanted you to know that Taymar is doing really well. She weighs 5 pounds now. She goes to the door when she needs to go outside to potty. She and Tucker play until they're both exhausted. She's learning to walk on the leash. She got her rabies shot Friday along with puppy shot #3. She has one more puppy shot before she's ready to hit the neighborhood. She is a digger. She has now discovered the entire yard and she and Tucker just run and run. She is very smart. She has a great personality. She is the perfect playmate for Tucker. I'll be taking her to obedience training beginning Sept. 1. Everyone still loves Tucker. He is just a charmer. You have provided me with 2 great Jack Russell Terriers. Thank you so much."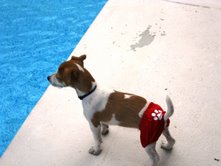 This is Cody, owned by April Schnelle
"Cody is completely done with all his shots and now looking forward to getting him fixed. He weighs 9 lbs as of this Monday. He is such a pleasure. He's learning more very day of what he can and cannot do. When I say 'no', he at least looks at me and stops what he is doing at the time. He is smart and learns very quickly. He uses some bells hanging on the door to let me know he wants to go out.
Just want you to know he's doing fine and is loved dearly.
Here are a few pictures of him. One with him in his Speedos. I hope all is well with you and yours.
Thanks for all you have done for me!"
This is "Molly" a smooth coat, standard legs, she now lives in Michigan with her very proud parents, the Nicholsons!
"TAKEO"
This is "Takeo" who now lives in Cupertino, California. his new owner says... "Greetings from California! Takeo is 14 months now and is doing great. We really couldn't imagine our lives without him. He is adjusting to our new condo in southern San Jose. We are also throwing around the idea of getting another JRT. We love Takeo to death and would love to get him a play buddy. I see you have some litters coming up this year. I will definitely be getting back in touch as I read more about the ones you will be having available. I have also included some pictures of Takeo you may want to have for your photo album!"
"Louie" is a broken coat ...
"Louie is such a loving dog. He is very friendly and handsome. I am constantly being stopped by people asking me about him. I would recommend this dog to anyone with an active lifestyle. Louie is constantly swimming, running, or chasing. Louie is truely a joy to be around and I congraduate you on your breeding. I truely could not be happier,
Cristina Cossio"
Florida
Sanders as a puppy.........Sanders now!
"My husband and I bought a JRT puppy from you last December from Libby x Rex. I believe you called him Libby's male #2 then, we now call him Sanders. He was born September 7, 2007 and we've had him in our home for a little over a year now. We could not be more pleased with him! He has wonderful personality and temperament and is just as active as we are. We take him on runs, go rollerblading with him, and have even taken him to the lake with us. We check your website often looking at Sanders parents and brothers and sisters. Everyone always comments on how beautiful he is and are impressed with his speed at the dog park. We're hoping to purchase another puppy once Sanders gets a little older. Thanks so much for bringing this joy into our lives!"
The Ihnken family
Salt Lake City, Utah